Cheese Straws are a highly addictive southern classic. Crispy and buttery, Southern Cheese Straws are amazing when paired with a dry sherry, or just by themselves.  It's impossible to eat just one!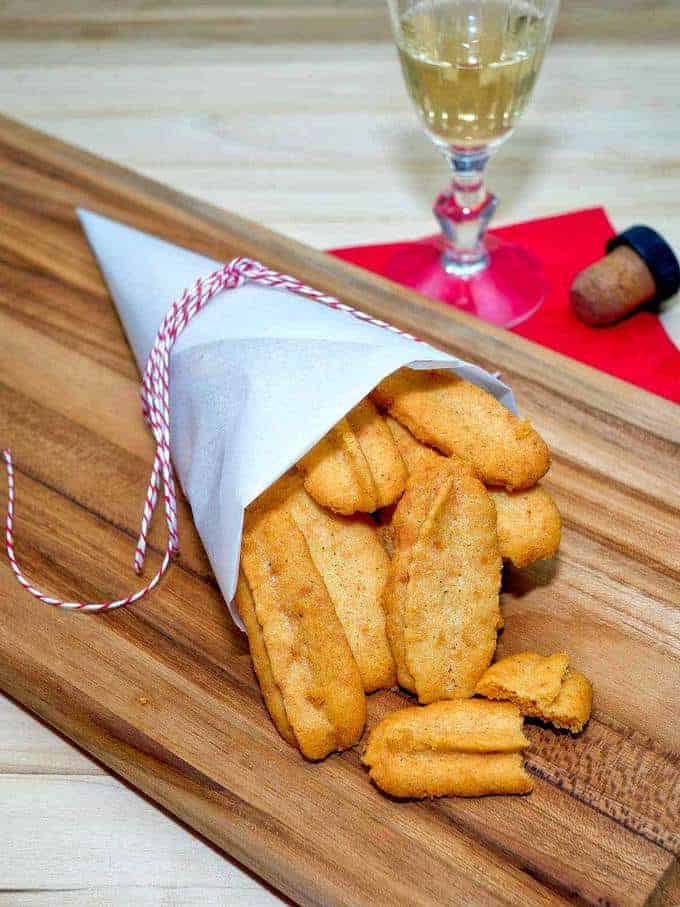 Ingredients for Southern Cheese Straws:
The ingredients for these delectable morsels include unsalted butter, cheddar cheese, baking powder, salt, cayenne pepper, and all-purpose flour.
Making the Southern Cheese Straws:
I added room temperature unsalted butter and room temperature shredded cheddar cheese to a mixing bowl, and beat them on high for several minutes until the cheese was fully incorporated into the butter. Then, I added the baking powder, salt, and cayenne pepper, and beat the mixture until everything was fully mixed.
Next, I added the flour, and beat the mixture on medium for about 5 minutes until it was smooth.
I transferred the mixture to a piping bag fitted with a 1M star tip, and piped 3-inch cheese straws onto a parchment lined baking pan.
Into a 350° F oven the cheese straws went for about 15 minutes until they were golden brown. After removing the cheese straws from the oven, I transferred them to a wire rack so that they could cool completely.
I ended up with about 12-dozen incredibly delicious Southern Cheese Straws. Yum!
Ingredients
1 cup (2 sticks) unsalted butter at room temperature
2 cups (8 ounces) shredded extra sharp Cheddar cheese at room temperature
1 Tablespoon baking powder
3/4 teaspoon salt
1/4 teaspoon cayenne pepper
2 cups (10 ounces) all purpose flour
Instructions
Preheat oven to 350° F.
With electric mixer, cream butter and cheese until well blended. Add baking powder, salt and cayenne pepper. Beat on medium speed until well blended. Add flour; beat on medium speed for 5 minutes until very creamy, scraping down the sides of the bowl several times.
Using either a cookie press or a decorating bag with a star tip (I use the 1M large star tip), pipe 3-inch long cheese straws on a parchment lined cookie sheet. Leave at least ½-inch space between cheese straws. Bake for 14 to 16 minutes, or until golden brown.
Remove from oven and allow straws to sit on the cookie sheet for 5 minutes. Transfer to a wire rack to cool completely. Store in air tight container.
Yield: 12 dozen.
7.6.7
58
https://pudgefactor.com/southern-cheese-straws/