Watermelon Christmas Trees are a fun and unique way to blend the scorching summer heat with visions of a frosty Christmas season. Prepare to carve out a new tradition for Christmas in July that is as refreshing as it is festive using the most festive fruit of the summer – the watermelon!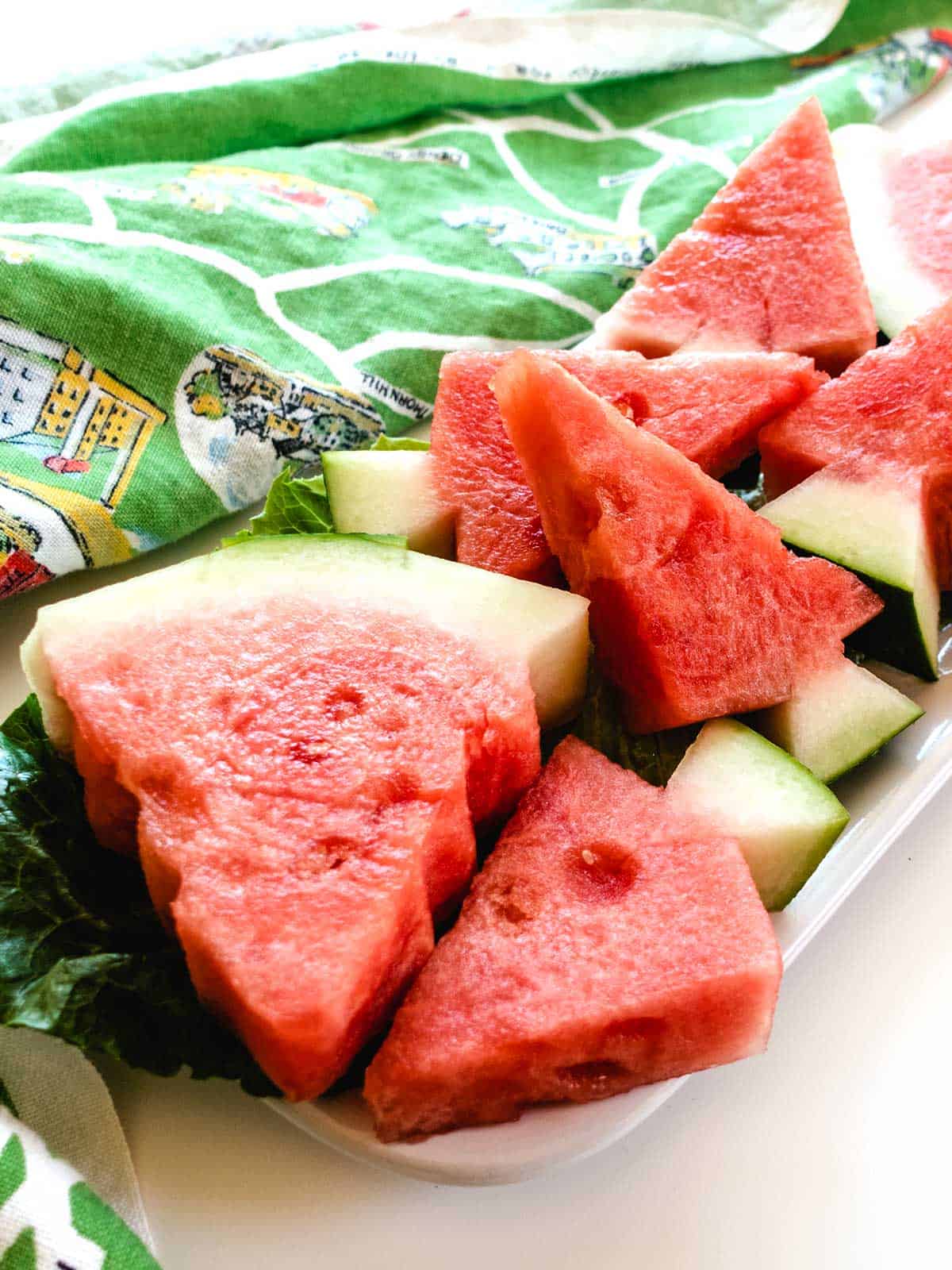 Jump to:
Why Watermelons?
Why Not?
Watermelons are sweet, juicy, and refreshingly cool for those hot summer days.
Their brilliant red color is perfectly Christmas-y.
Imagine a beautifully cut watermelon quarter cut and shaped like a Christmas tree sitting on your festive table.
Using a watermelon is a creative and innovative way to deck the halls with boughs of holly and prepare to say Ho Ho Ho for Christmas in July.
Here's What You'll Need
A quarter cut of a ripe seedless watermelon.
A sharp knife for cutting the watermelon.
An optional Christmas Tree cookie cutter.
How to Cut Watermelon Christmas Trees
Making these delightful summer treats couldn't be easier.
Start with a quarter of a watermelon and cut it into one-inch wedges.
Cut each wedge in half. Cut two vertical cuts about an inch in through the rind.
Then, cut away the rind on both sides to form the trunk of the little watermelon tree.
For another idea, use a Christmas tree cookie cutter to transform a wedge that has not been cut in half into a Christmas tree.
Voila! Your watermelon Christmas trees are ready. Arrange them on a platter, and let the fun begin.
Christmas in July is all about having fun and celebrating with loved ones. And these watermelon Christmas trees are a surefire way to bring a smile to everyone's face. Yum!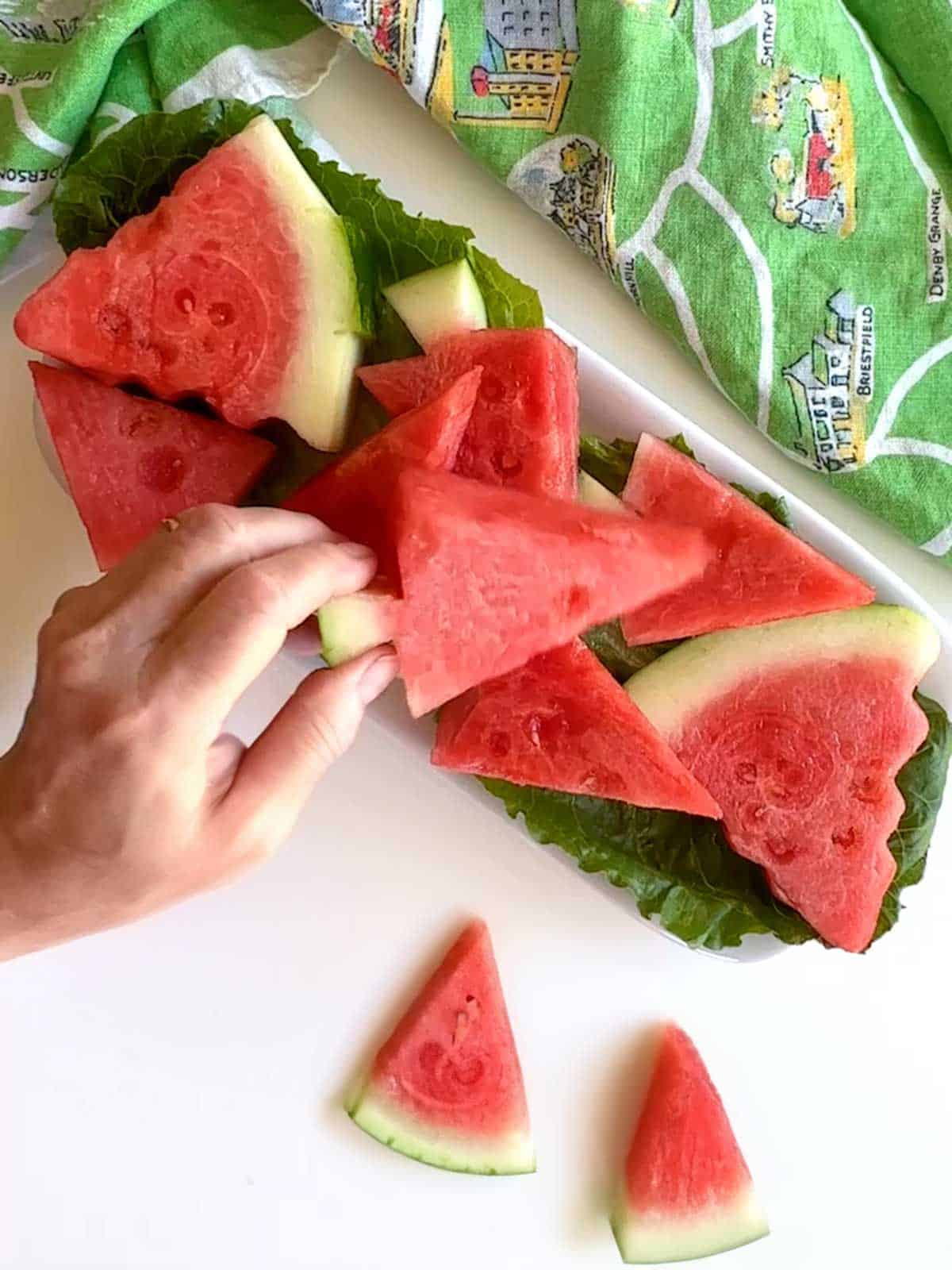 Frequently Asked Questions
How can you tell if a watermelon is ripe?
If you purchase a quarter of a watermelon already cut, you can see whether it's ripe. However, if you start with a whole watermelon, there are three things that you can do to ensure that you've purchased a ripe and juicy watermelon. The field spot is the underside of the watermelon, where it rested on the ground as it grew. A ripe watermelon will have a creamy yellow field spot, while an unripe watermelon will have a white field spot. When you thump the watermelon with your knuckles, it should sound hollow. The watermelon may be overripe or not ripe enough if it sounds dull. Finally, the rind of a ripe watermelon should be relatively smooth and should have a dull sheen. If the watermelon is shiny, it might not be ripe yet.
What is the best type of watermelon to use for making these little trees?
Any type of watermelon can be used to make watermelon Christmas trees, but a seedless watermelon is the best choice. The reason is that the seeds can be a nuisance when you are trying to eat the watermelon and can interfere with its appearance.
How long do these watermelon trees last?
Your watermelon Christmas tree will last for about 3-5 days in the refrigerator if packaged in an airtight container.
Recipe Tips and Tricks
For an even more festive look, consider decorating the watermelon Christmas trees. One idea is to place small dollops of Greek yogurt on the surface. Another is to use small pieces of fruit or candy for decoration. You could also sprinkle the surface with edible glitter to add a sparkle to your trees.
Use a sharp knife. This will help you get clean cuts and prevent the watermelon from becoming mushy.
If you're a fan of watermelon, you might try this delicious Southern Watermelon Granita or Grandé Fruit Bowl.
I hope you liked this recipe for Watermelon Christmas Trees as much as I do. If so, please consider rating it and leaving a comment. Also, if you'd like to receive notifications of new posts by email, enter your email address in the Subscribe box.
Thank you so much for visiting Pudge Factor. I hope you'll come back!
Recipe
Watermelon Christmas Trees – A Twist on Christmas in July
Watermelon Christmas Trees add a unique twist to Christmas in July celebrations that will delight your guests and beat the summer's heat.
Equipment
1 Sharp knife

1 Christmas Tree Cookie Cutter, optional
Ingredients
1

quarter of a ripe seedless watermelon
Instructions
With a sharp knife, cut the watermelon quarter into 1-inch thick slices.

Cut a slice in half. For each half, make two vertical cuts about an inch through the rind and cut away the rind on each side to make the trunk.

For a larger tree, use a Christmas tree cookie cutter to cut a tree shape from a watermelon wedge.

Yield: 12 Watermelon Christmas Trees (See Tip 1)
Video
Notes
The number of trees that you will be able to make depends on the size of the watermelon and how many trees are made using a cookie cutter and how many are made using half a wedge.
Nutrition
Calories:
34
kcal
Carbohydrates:
8
g
Protein:
1
g
Fat:
0.2
g
Saturated Fat:
0.02
g
Polyunsaturated Fat:
0.1
g
Monounsaturated Fat:
0.04
g
Sodium:
1
mg
Potassium:
126
mg
Fiber:
0.5
g
Sugar:
7
g
Vitamin A:
640
IU
Vitamin C:
9
mg
Calcium:
8
mg
Iron:
0.3
mg