Red beans and rice is a quintessential Creole dish that has been a staple of New Orleans cuisine for generations. It's an easy recipe to prepare, especially if made in an Instant Pot. This homemade version features red kidney beans, the trinity of vegetables plus garlic, smoked sausage, and ham cooked in a flavorful broth until the beans are tender and the flavors have blended together. Served with white rice and crusty French bread, this dish is certain to provide a taste of New Orleans at its best.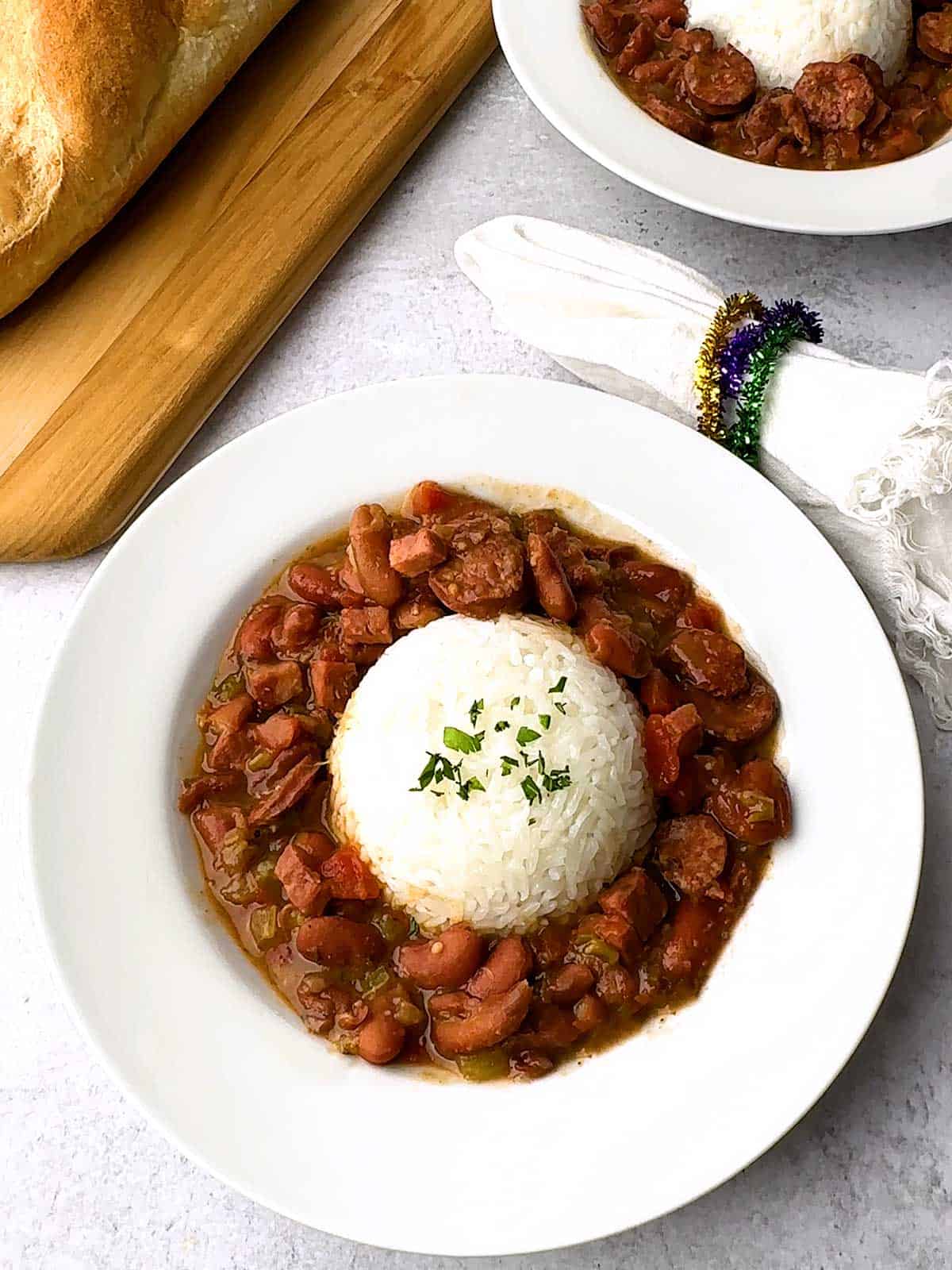 Ingredients: Here's What You'll Need
Jump to: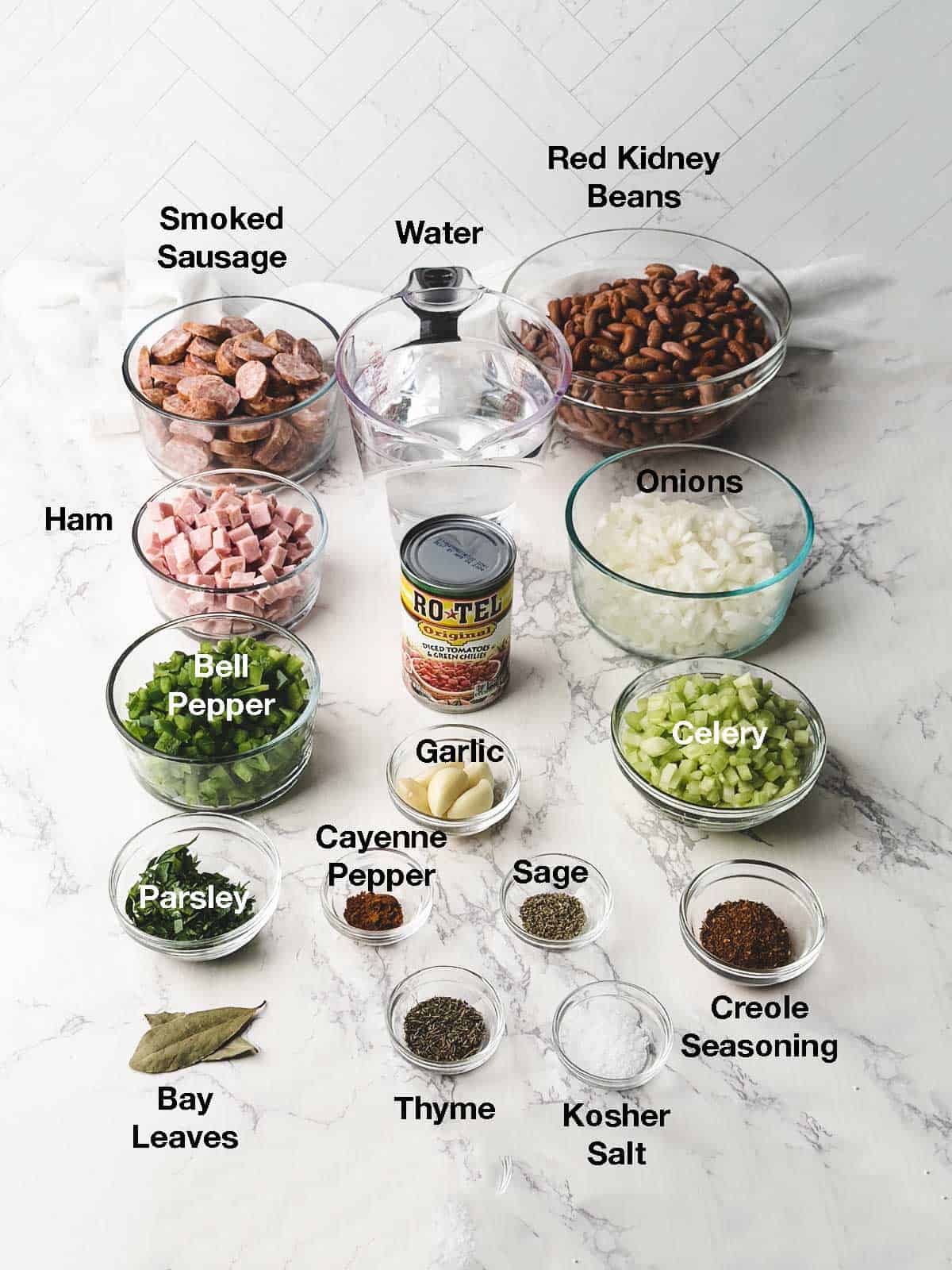 The Red Beans: For the red beans, I used dried red kidney beans. You could substitute canned red kidney beans for dried beans, as in Susan's Red Beans and Rice. However, because the canned beans are already cooked, you won't need the high pressure of the Instant Pot.
The Meats: I like to use smoked sausage in my Red Beans and Rice, and also some ham. You can substitute andouille sausage for smoked sausage. However, I think that smoked sausage adds more flavor.
The Trinity: In New Orleans cuisine, the trinity consists of onions, green bell pepper, and celery. I also added fresh garlic.
The Flavorings: Red Beans and Rice has added of flavor from the seasonings: Creole seasoning, parsley, dried thyme, dried sage, cayenne pepper, Kosher salt, and bay leaves. I'm not convinced that the bay leaves really add any flavor to the dish. However, bay leaves are a traditional New Orleans spice.
The Liquids: For the liquids, I added water and undrained Original Rotel Tomatoes with Green Chiles.
The Red Kidney Beans
I used the Camellia Brand Red Kidney Beans, which are a favorite in New Orleans. If you cannot find Camellia Brand, you can use whatever brand is available in your grocery store.
With the Instant Pot, some people claim that it is unnecessary to soak kidney beans. They just need to cook longer. While this is true, I prefer to first soak the beans overnight and discard the water.
My reason for soaking the beans is that the beans contain raffinose and oligosaccharides, which are gas-producing sugars. One way to minimize the gaseous impact is to soak the beans in water and then discard the water.
Steps in Making The Red Beans and Rice:
I soaked the kidney beans in water overnight. The next day, I drained and rinsed the beans.
The smoked sausage that I used was uncooked. Therefore I cooked it on the sauté function in the Instant pot. Then, I drained the sausage well on paper towels and discarded the fat in the Instant pot.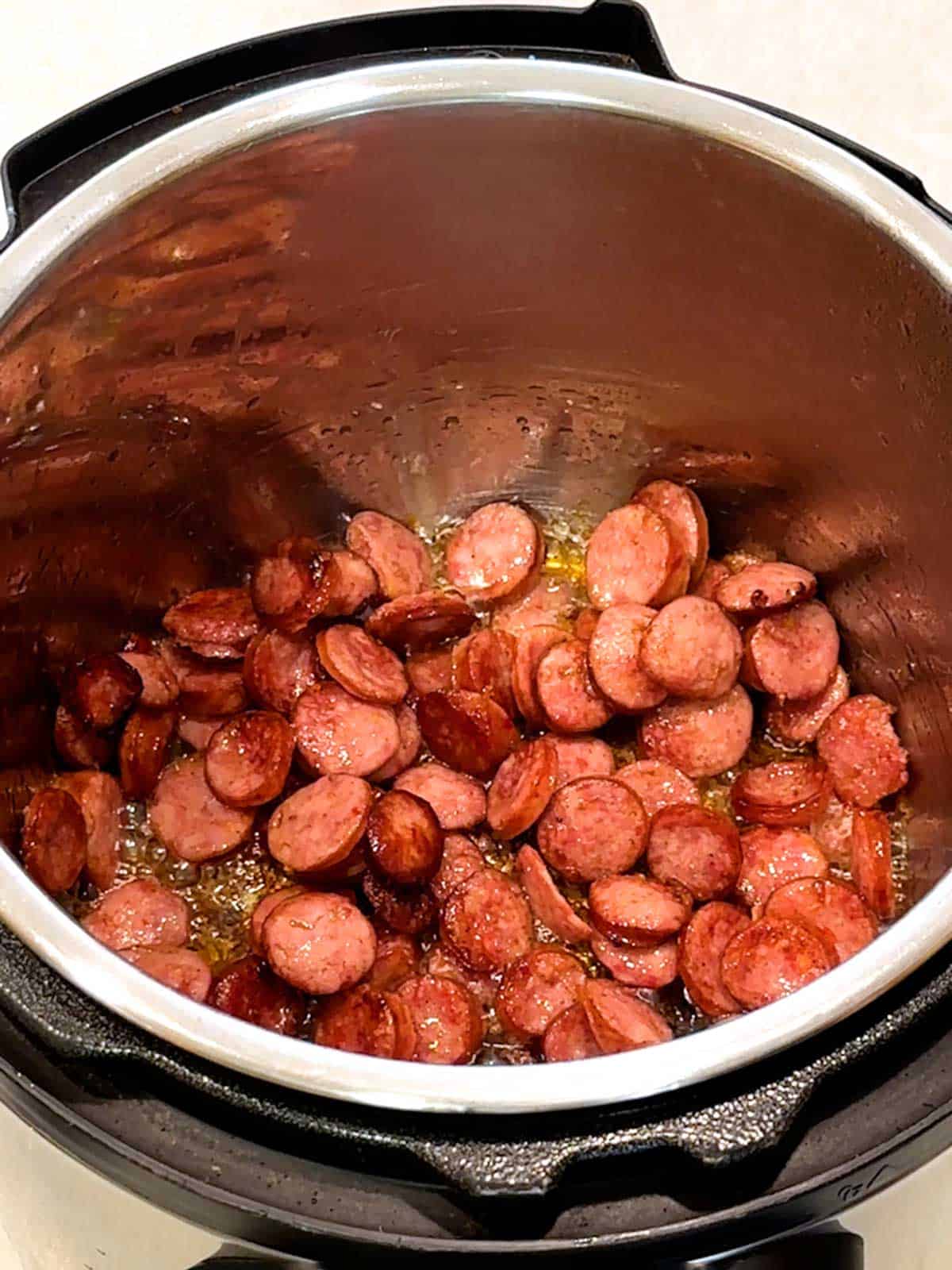 Next, I added the onions, green bell pepper, and celery to the Instant Pot and cooked them for about five minutes. During that time, I scraped up the browned bits from the bottom of the pan that was left from cooking the sausage.
After five minutes, I added the garlic to the Instant Pot. I stirred the mixture and let it cook for about 30 seconds until the garlic was fragrant.
Next, I added the ham, freshly minced parsley, Creole seasoning, dried thyme, dried sage, cayenne pepper, and Kosher salt, and stirred everything together.
Then, I stirred in the drained kidney beans, water, and cooked sausage.
Finally, I added the undrained Rotel tomatoes and two bay leaves. I didn't stir the mixture at this point. From experience, I know that sometimes tomatoes will burn in the Instant Pot if they come in contact with the bottom of the pan.
I secured the lid of the Instant pot and made sure that the steam vent was closed. Then, I programmed the Instant Pot on high pressure for 25 minutes.
I let the Instant Pot depressurize normally for 15 minutes. After 15 minutes, I quick released the pressure and removed the lid. I removed the two bay leaves and gave the mixture a stir.
Since I like a creamier texture in my Red Beans and Rice, I used a potato masher to mash some of the beans five or six times.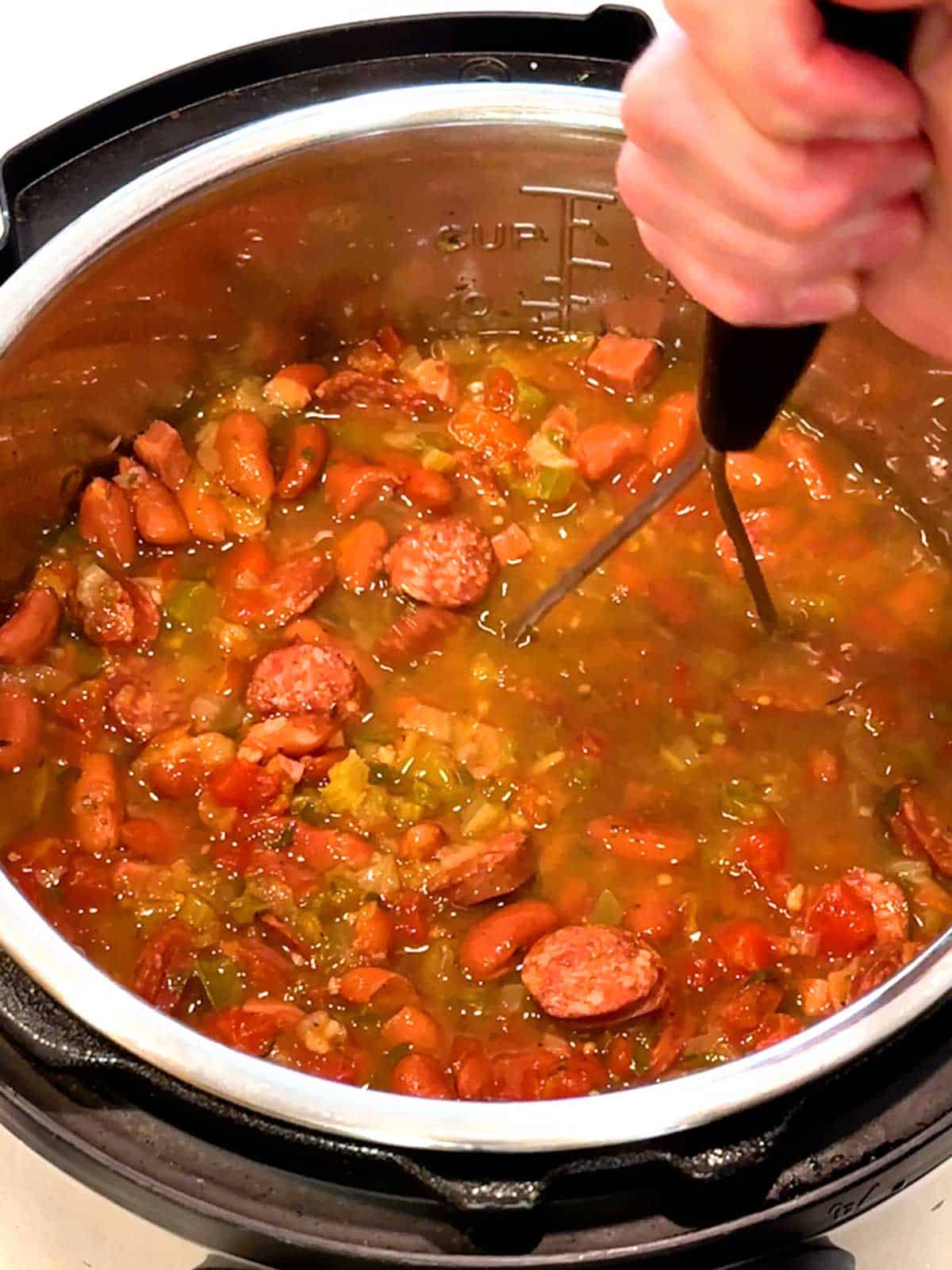 I served the Red Beans with white rice and Crusty French bread. Yum!
Recipe FAQ
What is the origin of Red Beans and Rice?
Red beans and rice has roots in New Orleans dating back to the days of slavery when it was a staple food for Monday meals. The dish was made from ingredients that were cheap and readily available but also filling and satisfying. The tradition of eating red beans and rice on Monday stems from the custom of washing clothes on that day, as the dish could be left to cook on the stove while the washing was being done.
What are the health benefits of Red Beans and Rice?
Red beans and rice is a nutritious and filling meal. Red beans are a good source of protein, fiber, and iron, while rice provides carbohydrates for energy. The dish also contains various vitamins and minerals, such as vitamin C, vitamin A, and potassium. The sausage and ham do contain a fair amount of sodium and fats, somewhat negating the health benefits of the beans and rice.
Can canned beans be substituted for dried beans?
You can use canned red kidney beans in place of dried beans. If canned beans are used, they should be well drained and well rinsed.
What kind of rice is used in this dish?
I typically use long-grain white rice in this dish.
Can the Red Bean mixture be made ahead of time?
This recipe can be made ahead of time and reheated when ready to serve. The flavors often improve with time, making it a great option for make-ahead meal preparation or leftovers.
Recipe Tips and Tricks
I've been making Red Beans and Rice for years. Before I got an Instant Pot, I made it in my Dutch oven. The only real difference in making it in a Dutch Oven was that it took about 2 ½ hours to cook the beans.
While andouille sausage is traditionally used in Red Beans and Rice, I like to use Conecuh original smoked sausage. Conecuh smoked sausage is quite flavorful and produces an incredible taste to the dish. A drawback of using Conecuh sausage is that it has to be cooked first, whereas andouille sausage is generally already cooked.
Every now and then, I forget to soak the beans overnight. When this happens, I use the quick soak method. With this method, I cover the beans in cold water, bring them to a boil and cook for 5 minutes. Then, I let the beans sit in the hot water for about an hour.
Some people prefer to mix the cooked rice with the red bean mixture prior to serving. My preference is to keep the rice separate. The reason is that this recipe produces a lot of the red bean mixture, and the rice can become gummy if reheated with the red bean mixture.
Other New Orleans Favorites
New Orleans is known for many things, including its delicious cuisine. Some of my favorites include the following.
For more of a variety of New Orleans-inspired dishes, I have you covered.
If you liked this recipe for Instant Pot Red Beans and Rice as much as I do, please consider rating it and leaving a comment. Also, if you'd like to receive notifications of new posts by email, enter your email address in the Subscribe box.
Thank you so much for visiting Pudge Factor. I hope you'll come back!
This is a repost from January 29, 2018. In this repost, I included all new photographs and improved text. I also used an Instant Pot rather than a Dutch oven.
Recipe
Red Beans and Rice
In New Orleans, red beans are a cultural tradition dating back for hundreds of years. Through the years, Red Beans and Rice was the quintessential dish associated with Mondays. Whatever day of the week, however, Red Beans and Rice is sure to please the most picky of eaters.
Ingredients
16

ounces

dry red kidney beans

16

ounces

smoked sausage, sliced ¼ inch (See Tip 2)

2

cups

chopped onion (1 large onion)

1 ½

cups

chopped green pepper (1 large or 2 medium)

1 cup

chopped celery (3 to 4 stalks)

5

cloves

minced garlic

8

ounces

ham cut into ½-inch cubes (2 cups)

2

bay leaves

2

Tablespoons

minced fresh parsley

2

teaspoons

Creole or Cajun seasoning (See Tip 3)

1

teaspoon

dried thyme

¼

teaspoon

dried sage

2

teaspoons

Kosher salt

¼

teaspoon

cayenne pepper

4

cups

water

10

ounce

can of Rotel Original Diced Tomatoes with Green Chilies

Sliced green onion tops for garnish

optional
Instructions
Rinse kidney beans; soak them in a large pot of water overnight.  When ready to use, drain kidney beans and rinse well. Set aside.

Cook the smoked sausage on the sauté setting in the Instant Pot until browned.  Drain well on paper towels, pressing as much fat as possible from pieces. Set aside. Pour fat from the pan and discard.  Wipe the pan's interior with paper towels to remove any remaining fat.

Add onion, bell pepper, and celery to the instant Pot; cook on the sauté setting for 5 minutes, stirring occasionally and scraping up browned bits from the bottom of the pan. Add garlic; cook for 30 seconds or until fragrant. Add ham, parsley, Creole seasoning, thyme, sage, salt, and cayenne pepper. Stir to combine. Stir in the kidney beans, water, and cooked sausage. Add the Rotel tomatoes and bay leaves, but do not stir. Bring to a boil. (See Tip 4)

Cover the Instant Pot and ensure the steam vent is closed—program on high pressure for 25 minutes. Allow to depressurize naturally for 15 minutes; then, quick release the remaining pressure. Remove the bay leaves. If you prefer a creamier texture, mash the beans with a potato masher four or five times.

Serve the beans with cooked white rice. Yield:  8 servings. (See Tip 5)
Notes
My Instant Pot is the 6-quart Duo. If you don't have an Instant Pot, you can make this recipe on the stovetop in a Dutch oven. It will take around 2 ½ hours for the beans to cook fully on the stovetop.
You can substitute andouille sausage for smoked sausage. Andouille sausage is generally already cooked. Therefore start the recipe with a little olive oil for cooking the vegetables.
My go-to Creole seasoning is Emeril's Essence. You can purchase it in the grocery store or make your own.
Sometimes tomatoes will burn in an Instant Pot if they come in contact with the bottom of the pan. Therefore, I never stir the mixture after the tomatoes have been added to prevent burning.
Leftovers if any, can be stored in an airtight container in the refrigerator for several days and reheated for later meals.
Nutrition
Calories:
338
kcal
Carbohydrates:
19
g
Protein:
18
g
Fat:
20
g
Saturated Fat:
7
g
Cholesterol:
57
mg
Sodium:
1411
mg
Potassium:
516
mg
Fiber:
5
g
Sugar:
2
g
Vitamin A:
270
IU
Vitamin C:
12.5
mg
Calcium:
45
mg
Iron:
2.9
mg