From easy beginnings to dramatic endings and everything in between, tempt your tastebuds with 20 tantalizing Mardi Gras recipes. I've teamed up with Grits and Pinecones to help you "laissez les bon temps rouler!"
1. Shrimp Étouffée – Shrimp Étouffée is classic New Orleans at its best. It's perfect for Mardi Gras with spicy shrimp cooked in a delicious roux based sauce.
2. Easy Chicken and Sausage Jambalaya – Easy Chicken and Sausage Jambalaya, from Grits and Pinecones, is the ultimate Mardi Gras food. It's a staple found all along the Gulf Coast, but especially in Southern Louisiana. You won't believe how easy it is to prepare and it's perfect for a quick weeknight meal with your family. Easy Chicken and Sausage Jambalaya is also a great make-ahead dish to serve company.
3. New Orleans Beignets – In New Orleans, beignets are a fried yeasted dough served with confectioners' sugar on top. They are traditionally prepared right before they're served to be eaten fresh and hot. They were brought to New Orleans in the 18th century by French colonists, and made famous by Café du Monde.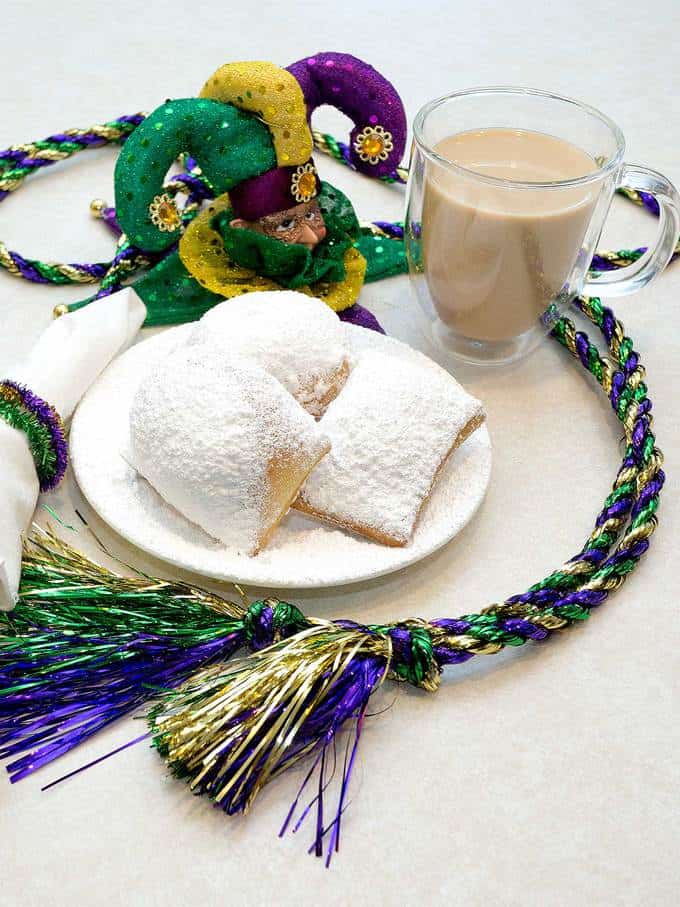 4. New Orleans Shrimp Remoulade – Shrimp Remoulade (pronounced ruma-lahd) is a quintessential New Orleans dish composed of cold boiled shrimp, paired with a spicy mustard-based dressing. It is generally served as a first course appetizer, making it perfect for Mardi Gras celebrations. I generally serve it on a bed of lettuce or in a stemmed wine glass to awaken my guest's taste buds.
5. Easy Hurricane Cocktail Recipe -"Laissez les bons temps rouler!" Let the good times roll! That sums up Mardi Gras. And no Mardi Gras celebration is complete without the famous Hurricane Cocktail.
6. Mardi Gras King Cake – King Cake is an ultimate New Orleans confection. It's basically a giant cinnamon roll decorated in Mardi Gras colors. Purple signifies justice; green denotes faith; and gold or yellow signifies power. Traditionally, a tiny plastic baby is hidden in the King Cake. Whoever, ends up with the baby is named "King" for a day and bound by custom to host the next party and provide the King Cake.
7. Spicy New Orleans Shrimp Creole – Shrimp Creole is a classic New Orleans dish with both Spanish and French undertones. It consists of shrimp cooked in a spicy mixture of diced tomatoes and the trinity (onion, celery and bell pepper). Traditionally, shrimp creole is served with cooked white rice. Add a piece of freshly baked crusty french bread for an amazing meal!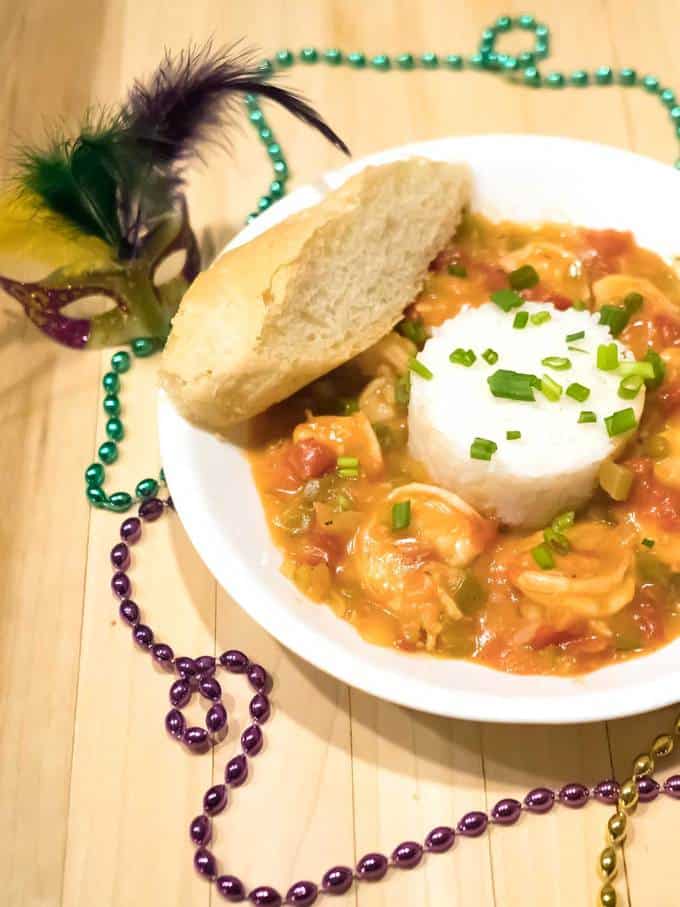 8. Cajun Chicken Fricassee – Chicken Fricassee is really a French stew that is typically cooked in a white wine sauce. This recipe is the Cajun version that is made with a traditional roux, and contains the holy trinity highlighted with Cajun seasonings. It's easy to make and incredible to taste!
9. Mardi Gras Cupcakes with Cinnamon Buttercream Frosting – Laissez les bon temps rouler with these easy to make Mardi Gras Cupcakes with Cinnamon Buttercream Frosting. Inside is a surprise that will delight even your most picky critic!
10. Low-Fuss Chicken and Smoked Sausage Gumbo – Gumbo is a type of stew that originated in southern Louisiana during the 18th century. It consists primarily of a some sort of stock, meat or shellfish, a roux, and the "Holy Trinity" (onions, celery, and bell peppers). What if you could make this delicious dish without all of the fuss and the oil that traditionally accompanies the roux? Well you can with this Low-Fuss Chicken and Smoked Sausage Gumbo!
11. Classic Shrimp Cocktail – Ready in minutes and always a crowd pleaser, Classic Shrimp Cocktail is the perfect make-ahead appetizer for your next Mardi Gras, or anytime, gathering. It combines succulent boiled shrimp with a spicy tomato-based sauce for the ultimate blending of flavors.
12. Baked Pecan Chicken with Mardi Gras Rice – Who could resist succulent pieces of chicken coated in pecans? Add tasty Mardi Gras Rice for an incredible meal!
13. Mini-King Cakes – The Mardi Gras King Cake of New Orleans comes in a number of styles. The most traditional style is a ring of twisted cinnamon roll dough topped with icing. Then, it is decorated with purple, green, and gold sugar or sprinkles. As an added treat, the King Cake may be filled with cream cheese. Whatever the filling, the King Cake is a traditional staple of the Mardi Gras Season.
14. Pasta Jambalaya – Jambalaya is a classic New Orleans dish that has its roots in both French and Spanish settlers. Traditionally, jambalaya is made with sausage, along with some other meat and/or seafood. It includes the holy trinity of onion, celery, and green bell pepper, along with spicy seasonings and rice. Pasta Jambalaya replaces the rice with pasta to create an unforgettable meal!
15. Pecan Praline Morsels – Pralines are a confection that contains sugar, nuts, and often cream. Pecan Praline Morsels combine pecans, that are plentiful in the South, with brown sugar and cream to produce an amazingly good candied nut! What's even better is that they are super easy to make.
16. Susan's Red Beans and Rice – Red beans and rice is a quintessential Louisiana Creole dish made with red beans, the holy trinity (onion, celery, and bell pepper), spices, and andouille sausage. Susan's version is both easy to make and absolutely delicious!
17. Oysters Rockefeller – Oysters are for lovers, and Oysters Rockefeller from Grits and Pinecones is a recipe for romance, for an intimate Mardi Gras Dinner. These little jewels are a delicious and nutritious way to enjoy nature's bounty and a sweet way to say "laissez les bon temps rouler!"
18. Cajun "Fried" Turkey without the Fry – There's a widespread view that in the South, we'll eat anything that's fried, and fried turkey is no exception. Although fried turkey is not necessarily confined to the South, it's origins are very Southern – the heart of Cajun country in Louisiana to be exact. What if you could achieve the crisp and crunchy outside, and moist and flavorful inside that is characteristic of a fried turkey without all of the oil that accompanies it? Now you can!
19. Mardi Gras Munch – Laissez les bon temps rouler with Mardi Gras Munch! This snack mix is not only sweet, salty, and crunchy, but also simple to make and delicious to eat.
20. New Orleans Pralines – New Orleans pralines are different from their European ancestor in that the New Orleans variety uses pecans rather than almonds, and includes cream. Pecans were used because they were, and still are, plentiful. Cream was introduced as a thickener. Thus, the New Orleans pralines have a creamy consistence and are similar to fudge. They are generally made by cooking sugar, butter, cream, and pecans over a medium-high heat until the mixture reaches the soft ball stage. And are generally dropped by spoonfuls onto wax paper and left to cool. No Mardi Gras celebration would be complete without this delicious confection!
If you're looking for some more Mardi Gras recipes, check out my Ultimate Mardi Gras Recipe Collection.
I hope you liked this collection of Mardi Gras recipes as much as I do. If so, please consider rating it and leaving a comment. Also, if you'd like to receive notifications of new posts by email, ever your email address in the Subscribe box.
Thank you so much for visiting Pudge Factor. I hope you'll come back!