As we begin this year's Carnival Season, I've teamed up with Grits and Pinecones to bring you the Ultimate Mardi Gras Recipe Collection. 33 incredible recipes from our houses to your's that will tantalize your taste buds and take you from easy beginnings to dramatic endings and everything in between. Laissez les bons temps rouler!
1. Easy Mardi Gras Hot Muffuletta Dip : Easy Mardi Gras Hot Muffuletta Dip from Grits and Pinecones is a tantalizing dip made with tasty green olives, salami, provolone cheese and tangy giardiniera.
2. New Orleans Hurricane: The Hurricane is an iconic New Orleans cocktail. This rum based cocktail laced with tropical fruits is perfect for your Mardi Gras festivities. However, don't let its sweetness fool you – it can definitely knock you sideways if you're not careful!
3. New Orleans Beignets: In New Orleans, Beignets are a fried yeasted dough served with confectioners' sugar on top. They are traditionally prepared right before they're served to be eaten fresh and hot.
4. Shrimp Étouffée: Shrimp Étouffée is Classic New Orleans at its best. It's perfect for Mardi Gras with spicy shrimp cooked in a delicious roux based sauce.
5. Cajun Corn Maque Choux: Cajun Corn Maque Choux (pronounced Mock Shoe) is a traditional Southern Louisiana dish. Often viewed as Southern succotash, Maque Choux combines Native American and early settler influences to create an incredible corn-based dish.
6. Red Beans and Rice: In New Orleans, red beans are a cultural tradition dating back hundreds of years. Through the years, Red Beans and Rice was the quintessential dish associated with Mondays. Whatever day of the week, however, Red Beans and Rice is sure to please the most picky of eaters.
7. New Orleans Shrimp Po 'Boy: It may not be the official sandwich of New Orleans, but the Po 'Boy is as much a New Orleans tradition as is jambalaya and gumbo. Start with a Po 'Boy Roll, add fried shrimp and the "fixin's", and you have the perfect Shrimp Po 'Boy.
8. Mardi Gras King Cake: Mardi Gras which is French for Fat Tuesday begins on January 6 and culminates on the day before Ash Wednesday. The King Cake is a quintessential confection that is decorated in Mardi Gras colors. Purple signifies justice; green denotes faith; and gold or yellow signifies power.
9: Creamy Shrimp Creole: Shrimp Creole is a classic dish of Louisiana Creole origin consisting of cooked shrimp in a mixture of diced tomatoes, the holy trinity of onion, celery and bell pepper, spiced with cayenne-based seasoning, and served over white rice. This Creamy Shrimp Creole recipe from Grits and Pinecones adds sour cream and mushrooms which only increases the level of deliciousness of this classic dish and makes it absolutely the best Shrimp Creole you will ever taste.
10. Classic Eggs Benedict: Eggs Benedict is the quintessential dish served at a Jazz Brunch in New Orleans. What better way to celebrate Mardi Gras than with Classic Eggs Benedict?
11: Oysters Rockefeller: Oysters are for lovers and Oysters Rockefeller from Grits and Pinecones is a recipe for romance for an intimate Mardi Gras Dinner! These little jewels are a delicious and nutritious way to enjoy nature's bounty and a sweet way to say "laissez les bon temps rouler!"
12. Spicy New Orleans Jambalaya: Nothing speaks classic New Orleans cuisine like Spicy New Orleans Jambalaya making this one-pot meal perfect for Mardi Gras. It combines rice, shrimp, chicken, and andouille sausage in a spicy tomato sauce enhanced by the holy trinity.
13. Mardi Gras Macarons: Laizzez les bons temps rouler with these melt in your mouth Mardi Gras Macarons filled with a light and airy lemon buttercream.
14. Cajun Chicken Fricassee: Chicken Fricassee is really a French stew that is typically cooked in a white wine sauce. This recipe is the Cajun version that is made with a traditional roux, and contains the holy trinity highlighted with Cajun seasonings. It's easy to make and incredible to taste!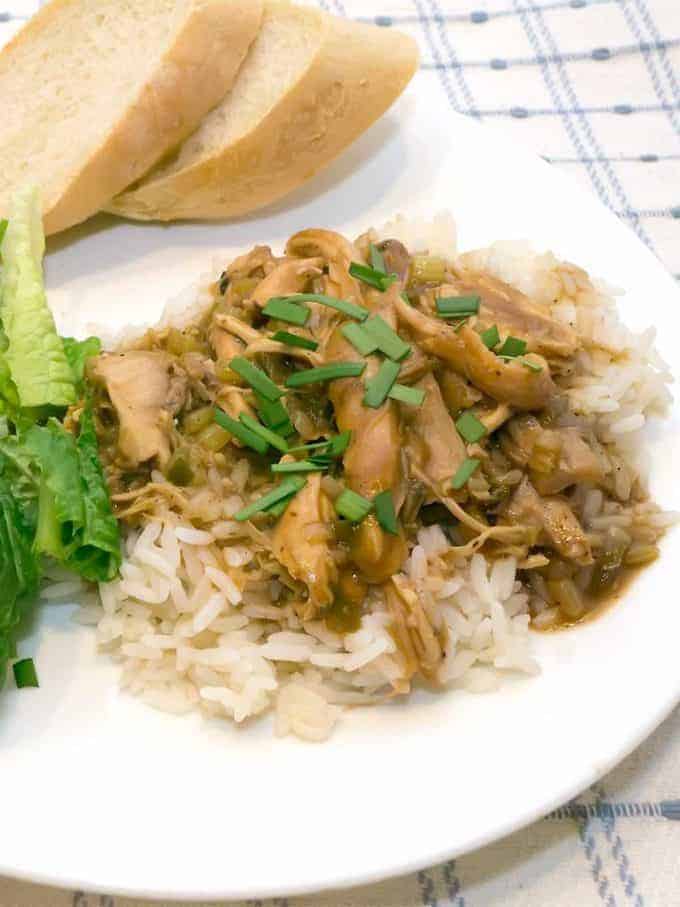 15. Layered Shrimp Cocktail Spread: If you like shrimp cocktail, you'll absolutely love this New Orleans inspired Layered Shrimp Cocktail Spread. It's quick and easy to prepare and tastes as good as it looks!
16. Mardi Gras Munch: Mardi Gras this year is February 13, 2018. It is much earlier this year than it has been in the past giving you not so much time to whip up Mardi Gras treats. Mardi Gras Munch takes minutes to make, and is sure to please!
17. Beef Grillades and Smoked Gouda Grits: Beef Grillades (pronounced ɡree-yahds) and Grits is a classic New Orleans dish. The beef is cooked in a flavorful gravy accented with the Trinity of onion, celery, and bell pepper until it is fork tender. Beef Grillades is made extra special when served with Smoked Gouda Grits.
18. Mardi Gras Lemon Bliss Bundt Cake: Brighten your Mardi Gras season with this rich and moist Lemon Bliss Bundt Cake. It feels like springtime, and tastes amazing under a layer of lemon glaze. Every piece is a surprise.
19. New Orleans Shrimp Remoulade: Shrimp Remoulade (pronounced ruma-lahd) is a quintessential New Orleans dish composed of cold boiled shrimp with a spicy mustard-based dressing.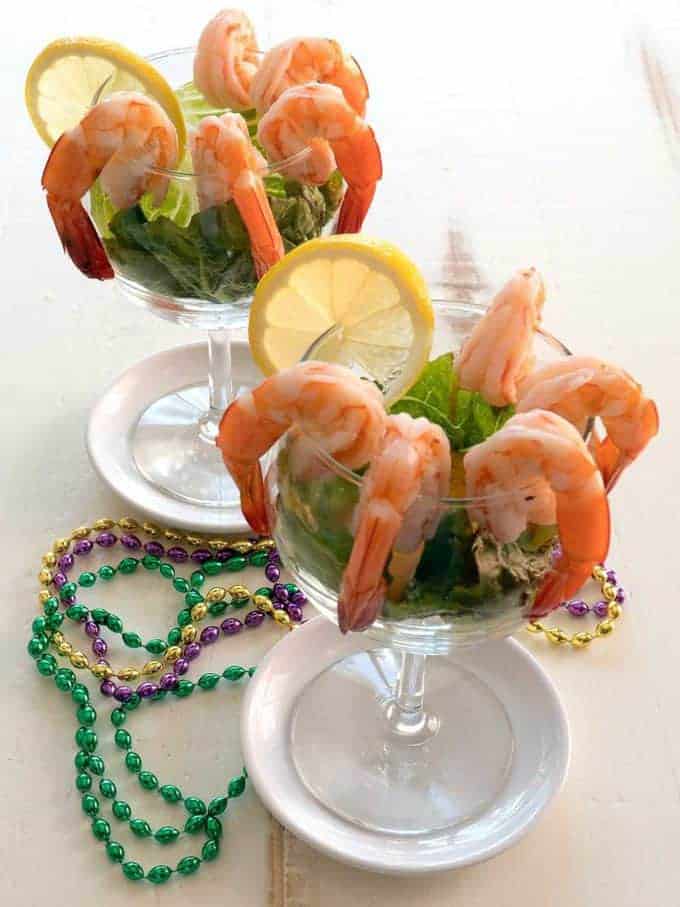 20. Easy Chicken and Sausage Jambalaya: Easy Chicken and Sausage Jambalaya from Grits and Pinecones is the ultimate Mardi Gras food, and a staple found all along the Gulf Coast, but especially in Southern Louisiana. You won't believe how easy it is to prepare and it's perfect for a quick weeknight meal with your family. Easy Chicken and Sausage Jambalaya is also a great make-ahead dish to serve guests.
21. Baked Pecan Chicken with Mardi Gras Rice: Who could resist succulent pieces of chicken coated in pecans? Add tasty Mardi Gras Rice for an incredible meal!
22. Mardi Gras Cupcakes with Cinnamon Buttercream Frosting: Laissez les bon temps rouler with these easy to make Mardi Gras Cupcakes with Cinnamon Buttercream Frosting. Inside is a surprise that will delight even your most picky critic!
23. Bourbon Chicken: Legend has it that Bourbon Chicken was so named because a Chinese cook made it in a restaurant on Bourbon Street in New Orleans. Whether this is true or not, Bourbon Chicken is amazing and quite fitting for a Mardi Gras celebration!
24. Grits à Ya Ya: Grits à Ya Ya, also known as Shrimp and Grits is a perfect Mardi Gras Dish. It takes cheesy smoked Gouda grits and tops it with perfectly seasoned shrimp and a creamy spinach and mushroom sauce.
25. Easy Hurricane Cocktail: Let the good times roll with this Easy Hurricane Cocktail from Grits and Pinecones! That sentence sums up Mardi Gras, which is celebrated in cities around the world and culminates on Fat Tuesday, the Tuesday before Ash Wednesday which ushers in Lent.
26. Classic Shrimp Cocktail: Ready in minutes and always a crowd pleaser, Classic Shrimp Cocktail is the perfect make-ahead appetizer for your next Mardi Gras or anytime gathering. It combines succulent boiled shrimp with a spicy tomato-based sauce for the ultimate blending of flavors.
27. Cajun "Fried" Turkey without the Fry: Although fried turkey is not necessarily confined to the South, its origins are very Southern – the heart of Cajun country in Louisiana to be exact, making it perfect for Mardi Gras.
28: Easy Mardi Gras Snack Mix: Mardi Gras is in full swing right now and this yummy snack mix from Grits and Pinecones is full of Mardi Gras colors, which are green, purple and gold (yellow) and crunchy treats.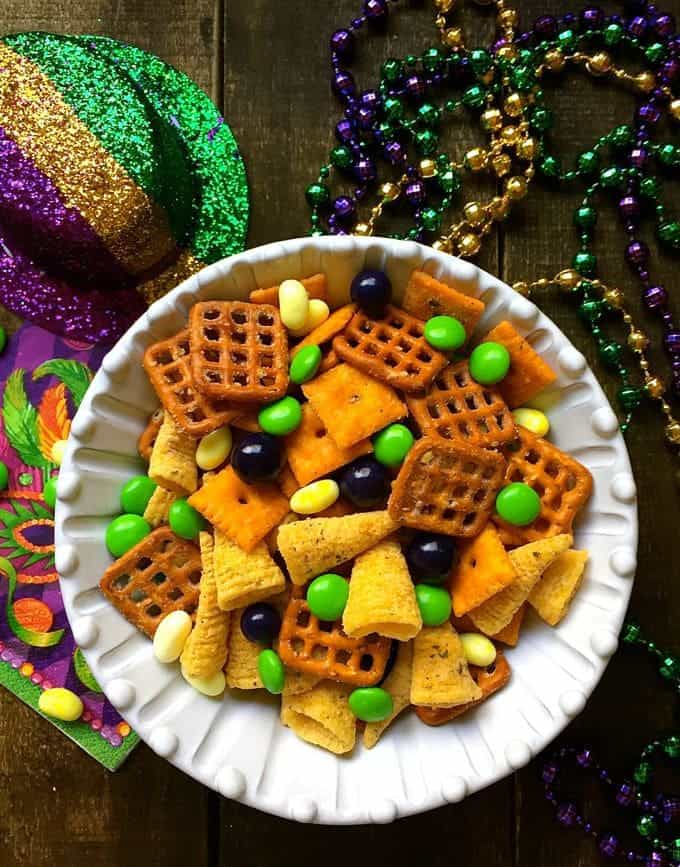 29. Pasta Jambalaya: Pasta Jambalaya is an awesome twist on the traditional Jambalaya dish. Pasta Jambalaya replaces the rice with pasta to create an unforgettable meal!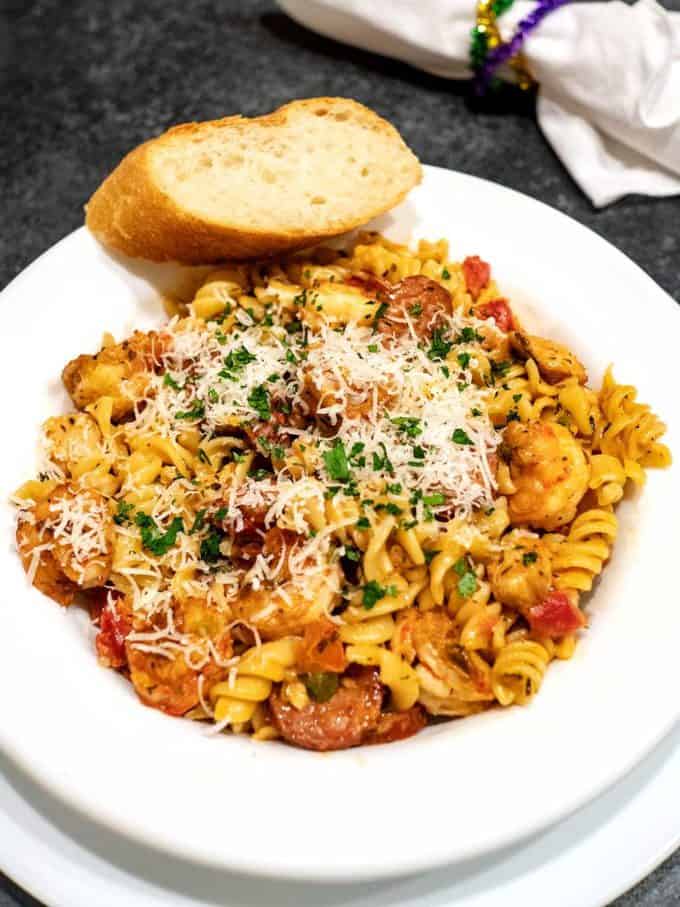 30. Cajun Sausage Bites with Spicy Dipping Sauce: If you're looking for a perfect appetizer for your Mardi Gras themed party, look no further. Cajun Sausage Bites with Spicy Dipping Sauce are easy to make, and are kicked up a notch to satisfy your cravings. Bet you can't eat just one!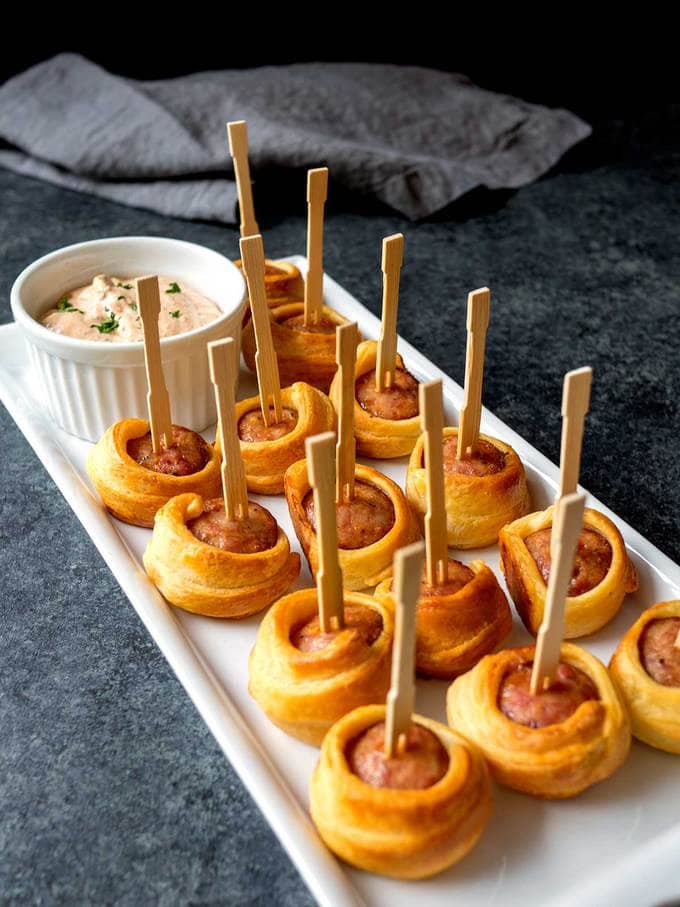 31. Low-Fuss Chicken and Smoked Sausage Gumbo: Gumbo is a type of stew that originated in southern Louisiana during the 18th century. It consists primarily of a some sort of stock, meat or shellfish, a roux, and the "Holy Trinity" onions, celery, bell peppers, and onions. What if you could make this delicious dish without all of the fuss and the oil that traditionally accompanies the roux? Well you can with this Low-Fuss Chicken and Smoked Sausage Gumbo!
32. Mardi Gras Salad: For a quick and refreshing salad, you should try Mardi Gras Salad. It is so named because of its Mardi Gras colored ingredients – Green, Purple, and Gold!
33. New Orleans Pralines: New Orleans Pralines have a creamy consistency and are similar to fudge. They are generally made by cooking sugar, butter, cream, and pecans over a medium-high heat until the mixture reaches the soft ball stage, and are generally dropped by spoonfuls onto wax paper and left to cool. No Mardi Gras celebration would be complete without these delicious morsels!
Now you have everything that you need for your perfect Mardi Gras celebrations. Laissez les bons temps rouler!
For other amazing roundup recipes check out these: